With summer ending and fall in the air, living in San Francisco offers locals ample opportunities to enjoy the season. From apple picking to science museums and everything in between, you're sure to find something on this list of 10 fun fall activities in San Francisco that speaks to you.

Golden Gate Park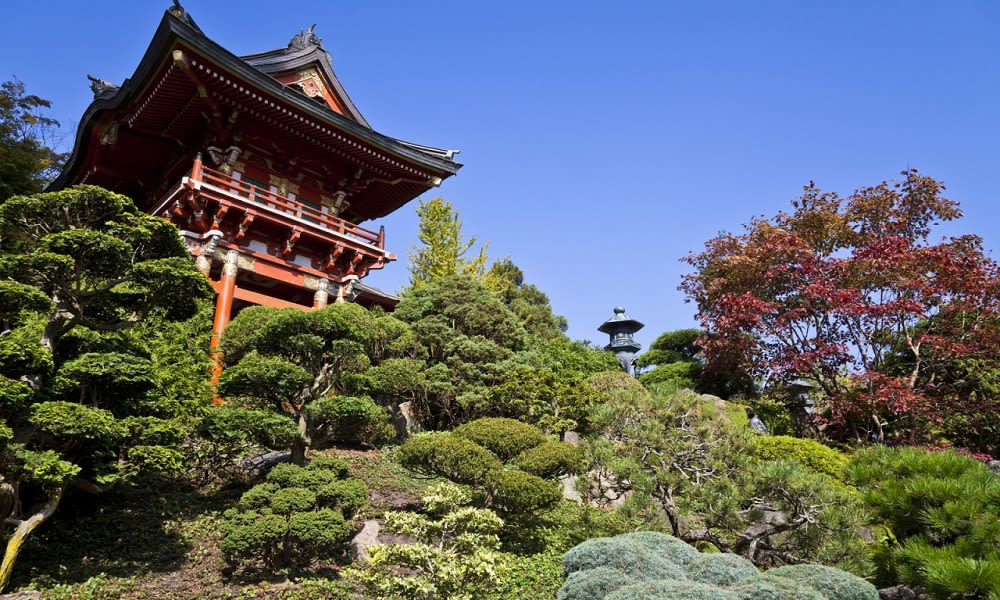 Japanese Tea Garden, Credit: goldengatepark.com

One of the premier destinations to enjoy enriching activities and events is none other than Golden Gate Park. Locals adore the multitude of opportunities to get outside, take a Segway tour, visit beautiful gardens, play sports, and much more. Fall in the park brings changing leaf colors and exceptional weather for exploration and recreation.

The Japanese Tea Garden is a sight to behold, inspiring visitors with its azalea-covered waterfall, regal lanterns and statues, and intoxicating fragrances of sweet wisteria and other magical blooms. Stop by the De Young Museum to view the permanent collection, which is filled with works from around the globe, pass through the captivating, contemporary Barbro Osher Sculpture Garden, and make your way up the Hamon Observation Tower to glimpse some of the best panoramic views of the city.

These are just a handful of the incredible offerings at Golden Gate Park that will make this autumn one for the books!
Golden Gate Bandshell Concerts
Locals gather every Friday night to enjoy free outdoor performances known as Golden Gate Bandshell Concerts, courtesy of Illuminate and the San Francisco Parks Alliance. The performance lineup is diverse and local, ranging from rock and reggae bands to jazz and R&B. These all-ages concerts will run through the end of 2021, featuring Singer-Songwriter Wednesdays, Jazz and Soul Fridays, Cultural and Community Saturdays, and Reggae Sundays, with special events scheduled throughout. The free concert series was planned for Golden Gate Park's 150th anniversary in 2020. Though the pandemic delayed the series kickoff, the Golden Gate Bandshell has been upgraded to include a new stage with built-in theatrical lighting and a state-of-the-art Meyer sound system, so be sure not to miss a performance or two!
Fisherman's Wharf
Fall brings fantastic weather and Fleet Week, making it the perfect time to visit Fisherman's Wharf. There's something for everyone at the Wharf, which teems with attractions and eateries.

Stop by PIER 39's West Marina to view sunbathing sea lions, which are lovingly coined the Wharf's "Sea Lebrities." Hop on a bicycle provided by Blazing Saddles Bike Rentals to explore the Wharf on wheels and take in the many captivating sites. Embark on a 90-minute yacht cruise complete with a wine tasting and stunning views of Golden Gate Bridge, Alcatraz, and a plethora of famous landmarks and attractions. The yacht, aptly named Wine Therapy, boasts an indoor heated cabin with large windows for taking in the view while you melt away stress with some drinks and good company.

Once you've run through your packed itinerary, refuel at one of the wharf's fabulous restaurants. There are eight different seafood-centric eateries to choose from, along with a variety of other spots where you can grab some coffee, ice cream, beer, Ghirardelli chocolate, and more. Regardless of what you do or where you eat, you're sure to have an exciting fall day at Fisherman's Wharf.
San Francisco Turkey Trot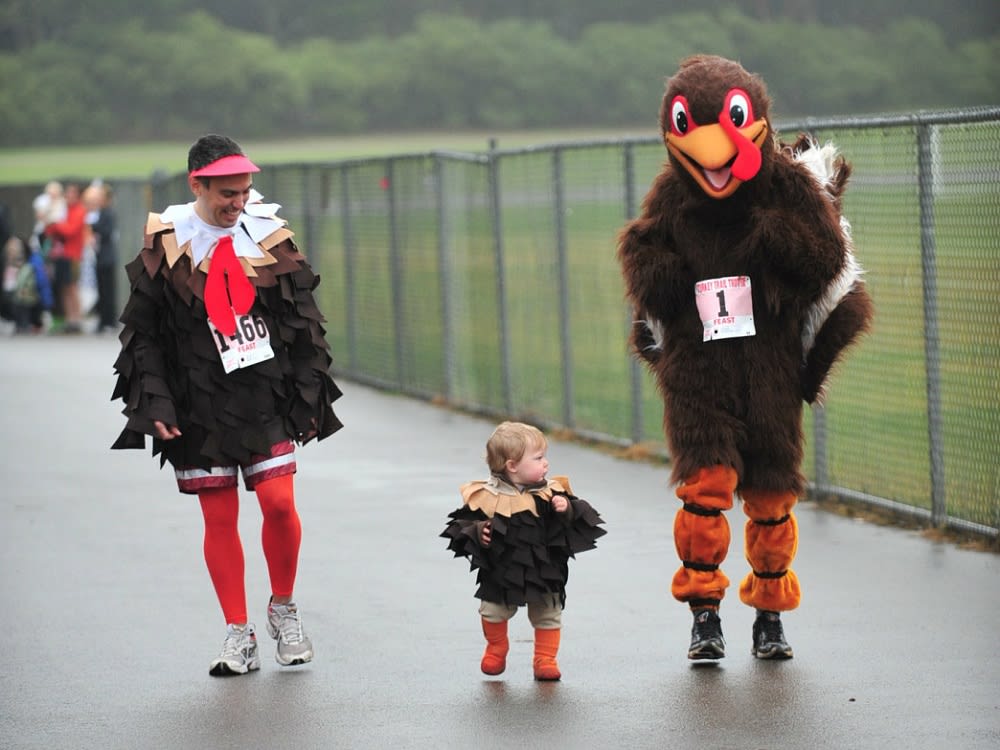 Credit: RootsRated

Rally your family for a walk/run through Golden Gate Park to burn off some steam before Thanksgiving festivities begin at the annual San Francisco Turkey Trot! People of all ages get active at the event, often sporting imaginative turducken and cornucopia costumes to show their Turkey Day excitement. The victor of the 5-mile race wins a turkey, wine, a pumpkin or apple pie, and a $100 Sports Basement gift certificate. Don't miss the Gobbler Chase to see tots and tykes running in their cutest turkey costumes! Preemptively burn off some carbs with this fun, family-friendly race through Golden Gate Park this Thanksgiving.
Lemos Farm
Lemos Farm has been a family favorite in the Bay Area for many years. Kids love exploring the pumpkin patch and haunted house, taking hay and pony rides, meeting critters at the petting zoo, and much more.

The farm is open on weekends and offers an abundance of outdoor recreation for your little ones. The Haunted House is open year-round and features a scary and non-scary version, so your four-year-olds don't have to miss out on the fun! Take your toddlers over to the Dig Zone Tractor to press the button that sets the hydraulic digging machine in motion, take charge, command the claw and let their imaginations run wild.

The farm's newest addition is a large inflatable slide, which provides a combo of adventure and fun for little tykes. Between the pony rides, petting zoo, goat yoga, and additional offerings, you and your kids will cherish a day spent outdoors at Lemos Farm.
San Francisco Zoo & Gardens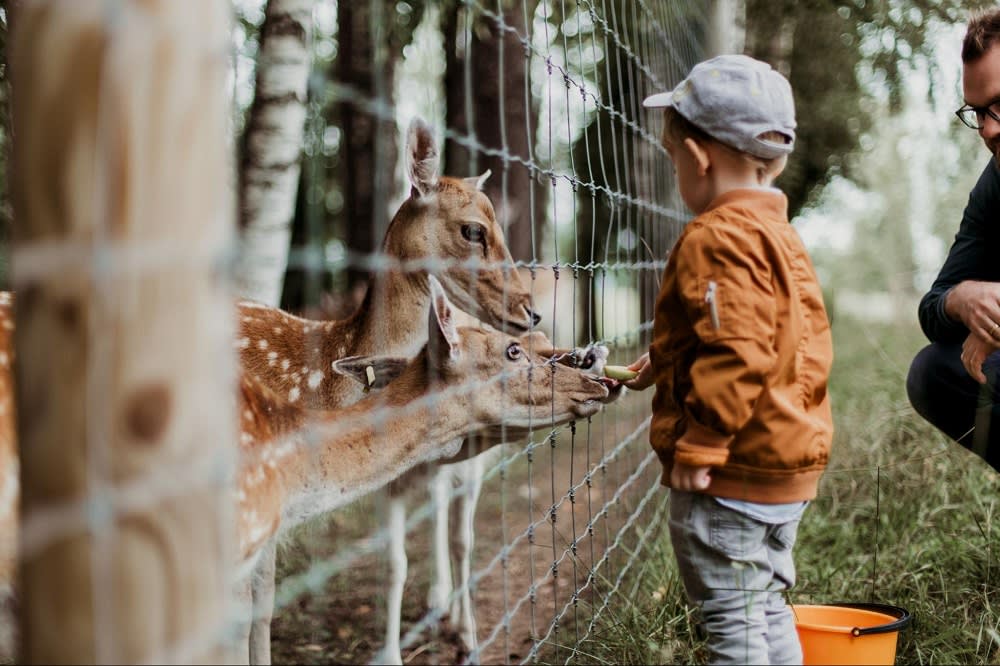 Make a trip to the San Francisco Zoo & Gardens to meander through 100 acres of wildlife. The zoo is home to over 1,000 endangered and rescued animals and provides various kid's events, educational programs, rides, and meet and greets with zookeepers.

Stop by Australian WalkAbout to view red kangaroos, cassowaries, and wallaroos in addition to native Australian plants. Head to the Thelma and Henry Doelger Primate Discovery Center to monkey around with Francois' langurs, black howler monkeys, siamangs, colobus monkeys, squirrel monkeys, lemur species, and pied tamarins.

For a memorable up-close and personal experience, head to the three-acre mixed-species Leanne B. Roberts African Savanna to be surrounded by majestic giraffes, zebras, kudus, and African birds and flora. With so many magical wonders to explore, you'll love spending a spectacular autumn day with your family at the San Francisco Zoo & Gardens.
California Academy of Sciences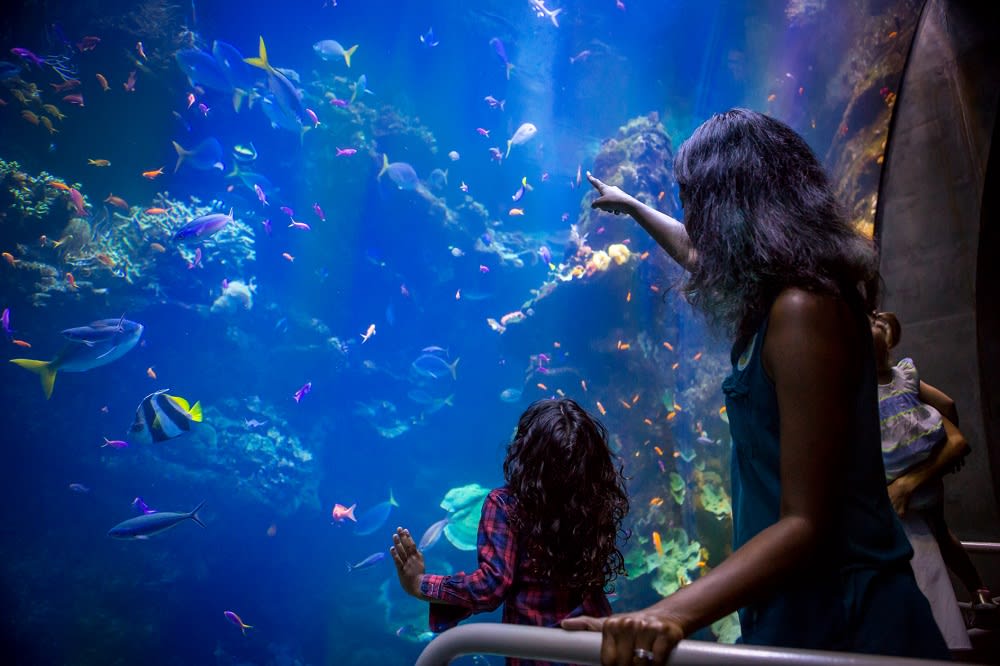 Credit: Kathryn Whitney, California Academy of Sciences

Spend the afternoon discovering the exciting world of science at the California Academy of Sciences. Here you can check out San Francisco's aquarium, planetarium or natural history museum.

Head to Osher Rainforest to wander through a lush rainforest teeming with free-flying birds, exotic reptiles, Amazonian fish, and amphibians. The Steinhart Aquarium will leave your family inspired by vibrant coral reefs, majestic African penguins, snapping turtles, California Coast marine life, and a beloved albino alligator named Claude. A place that is free of animals but full of wonder, Curiosity Grove is California forest-themed playspace ideal for young minds.

Between the planetarium, aquarium, and rainforest, your family will spend a thrilling day of learning and exploration at the California Academy of Sciences.
San Francisco 49ers Football
Show your Bay Area pride this season by going to a San Francisco 49ers football game. This is the first NFL team to have originated on the West Coast, so it's almost imperative to see at least one game. Fortunately for you, the 49ers play two home games a month between August and December, giving you plenty of opportunities to gather with other red-and-gold-decked fans to cheer on SF's home team. So warm up those vocal cords and prepare to scream in support of the 49ers at the next football game.
Alcatraz Night Tour
Alcatraz Island is a fascinating place as it is, but visiting at night takes the experience to another level. Revel in the beauty of the sunset silhouetting the Gold Gate Bridge, glimpse a cell door demonstration, and hear fascinating stories about the Island's history and residents during an Alcatraz Night Tour.

This unique tour allows just a few hundred visitors per evening and features special programs, activities, and guides that aren't offered during the day. Evening discussions by Alcatraz Island experts are offered on various topics and change nightly. Don't forget to scope out the visiting and permanent exhibits of the Island!
Apple Picking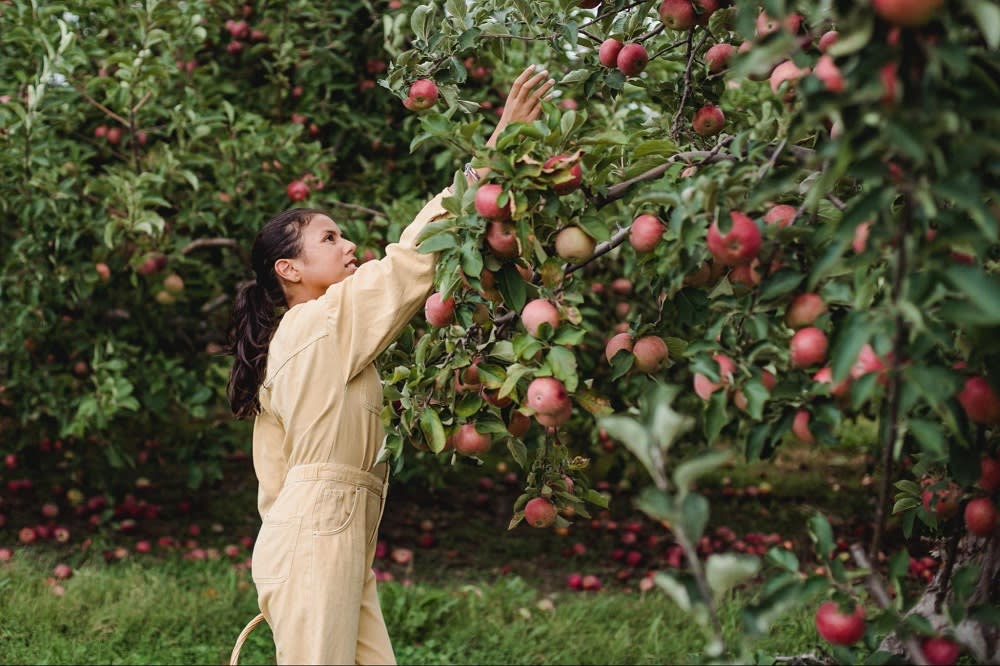 Fall in SF brings clear, fogless days and warm weather, creating the perfect backdrop to spend the day outdoors with loved ones. One beloved autumn pastime is taking the kids to one of the many apple orchards in the Bay Area for apple picking. There are several convenient options with pick-your-own fields for Frisco day-trippers, including Clearview Orchards and Gizdich Ranch in Watsonville, EARTHseed Farm, and Apple-a-Day Raztlaff Ranch in Sebastapol, and Chileno Valley Ranch in Petaluma. Apple picking is a great way to get some fresh air, spend time with the kids and share the rewarding experience of picking your own produce fresh off the tree.

If you're ready to dive into the world of luxury San Francisco real estate, contact Mary Macpherson today! She will be happy to help you find the perfect Bay Area home.

*Header image credit: Spondylolithesis