Aside from its famous landmarks, San Francisco offers beautiful bookstores across the area that are sure to impress. Here is our list of the top 6 San Francisco bookstores to explore while you are in town.
Green Apple Books
Green Apple Books is home to over 60,000 new books and over 100,000 used ones. Any booklover could spend hours here with so much to find and discover. This store is well loved by its visitors, and it is celebrating its 50th anniversary this year. It has even been voted as the best bookstore in the Bay Area by magazines, newspapers, and other websites. Other than its huge selection of books, you'll find other merchandise here too. They have vinyl records, magazines, DVDs, gifts, and more! Their decades of experience selling books in the San Francisco area shows, and all of their employees are helpful and well read.

Another exciting thing that this bookstore has to offer is its monthly book subscription service. If you love to read the latest fiction novels, their Apple-A-Month Club may be just the thing for you. Each month, they will pick a brand new book that's going to be released that month and deliver it right to you. If you have any books you don't want anymore, Green Apple Books will buy books back from you too! Just check their website for a full, current list of everything they look for. Over the years, this bookstore has expanded, and it now has three locations in San Francisco, making it convenient for wherever you're located in San Francisco.
Dog Eared Books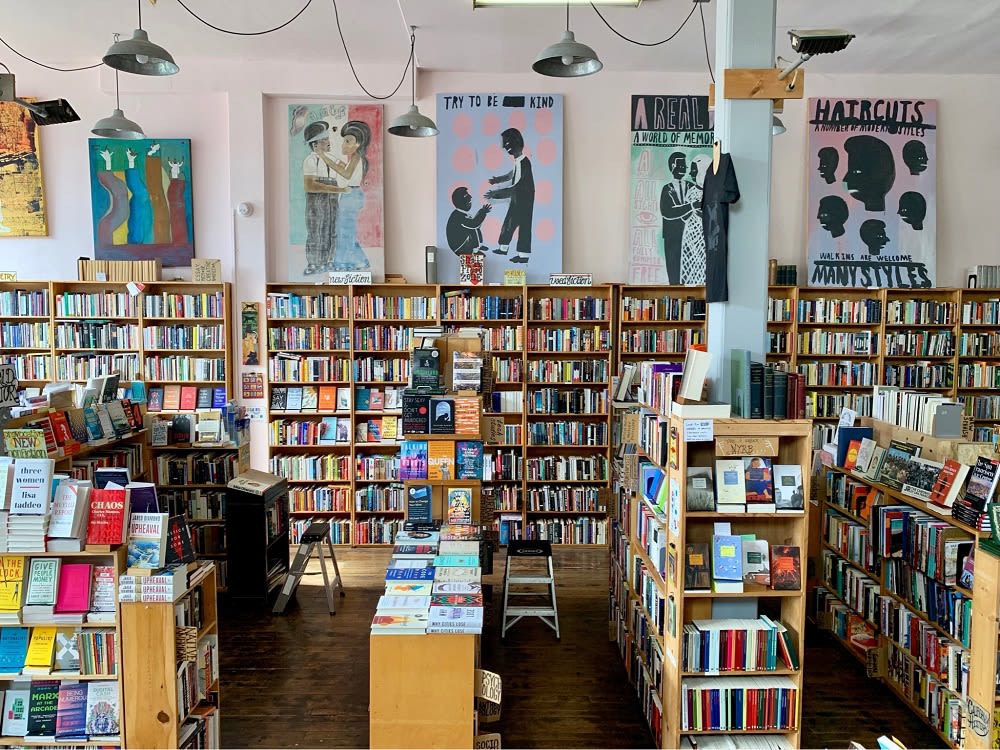 Credit: Dog Eared Books

This cute San Francisco bookstore has everything from new books, used books, and even remaindered books! This store has so many books to explore, making this a book lover's paradise. This bookstore has a bit of everything in terms of books, but it prides itself on supporting its local community. You'll find lots of books from local authors and small print publications. Dog Eared Books makes it easier than ever to support local authors from the San Francisco area. Their staff is well known to be friendly and helpful, so if you need help finding something specific or if you have questions about anything, feel free to ask away!

They sell items other than books too, such as magazines, cards, notebooks, and even most of the art displayed on the bookstore's walls. If you're looking to sell some books, they buy your used books that are in good condition! Just be sure to call ahead to see when they're accepting books to buy, and check out their website for what kinds of books they do and don't buy. Dog Eared Books variety makes it a San Francisco bookstore staple, open every day from 10 am to 10 pm.
Christopher's Books
This neighborhood independent bookstore has been well-loved since it first opened its doors in 1991. Visitors of Christopher's Books bookstore have described it as having a cozy and welcoming environment, with warm and helpful staff and a great selection of books. It's one of the main reasons why it has so many frequent customers. While being a physically small store, they have a large selection of all kinds of books, including new releases, fiction, nonfiction, travel, and everything else you can dream of in between. If you have kids, be sure to check in their kids' section which has a nice selection of picture books too, they even sell some toys.

Their friendly staff will help give you recommendations, look for any titles or authors you're looking for, or answer any questions you might have. If you go to the store and they don't have a specific book you want, the staff can order it for you and have it ready in just a few days. This spot is an amazing place to find a gift for someone, and Christopher's Books will make it extra special. They'll wrap up your gift in beautiful gift wrap, so you don't have to worry about finding wrapping paper or a gift bag! This charming store and the people who work there will really go the extra mile to make sure that your shopping experience is wonderful.
Alexander Book Company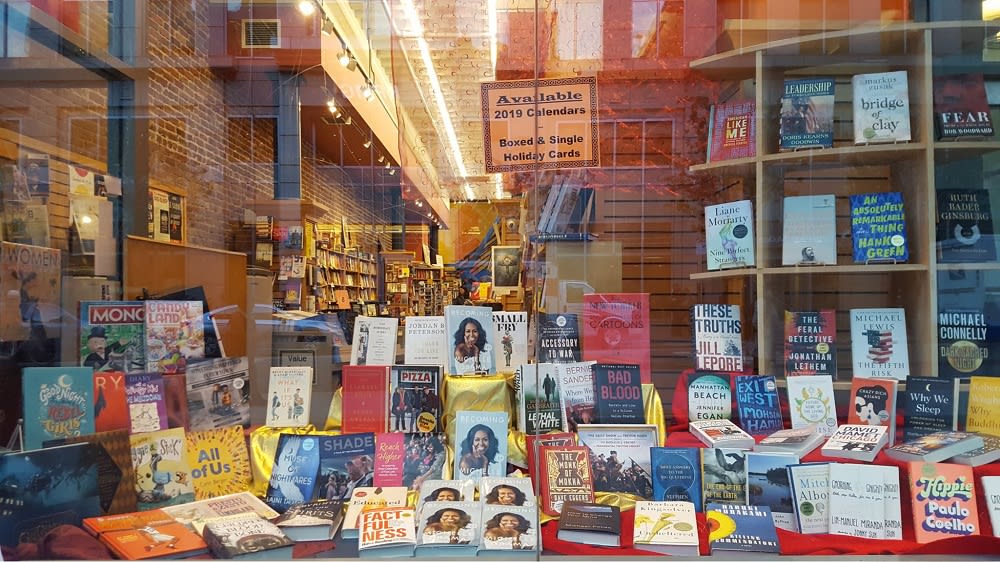 Credit: Alexander Book Company

With 3 floors worth of books, you're sure to find all of your book wants and needs at Alexander Book Company, located right in downtown San Francisco. Here you'll find books of every genre and on every topic you can think of. Its huge variety is one of the things that makes this spot so special. They're also known for their children's section, which has so much for kids of all ages to discover their own love of reading. People of all ages and with all different interests and tastes in books will love what this independent bookstore has to offer.

Another lovely thing about shopping here is that you'll be helping support their buy a book, plant a tree initiative. Alexander Book Company supports the non-profit organization Trees for Future, which means that for every book that you buy, a tree will be planted in its place, so you'll get to find some amazing new reads, and help out the environment all at the same time. It can't get any better than that! As of this year, they and their customers have helped 600,000 trees to be planted. If you're looking for a place in San Francisco with lots of variety and to help the environment in the process, you should consider checking out Alexander Book Company.
Russian Hill Bookstore
With over 50 categories of books, Russian Hill Bookstore is a spot you don't want to miss if you're a book lover in San Francisco. Their selection consists of both new and used books, and there is so much to discover here. Some of their broader sections include many different areas of history, general fiction, humanities, sciences, classic literature, art, food & wine, sheet music, and more. Within their selection, you'll find a whole section on San Francisco, including books about its history and other memorabilia. They truly have a section for everybody.

Because of how much it has in terms of the arts, many designers, architects, artists, and other creatives love this shop. Another perk about this store is that if you want to sell or trade-in some books you don't want anymore, you can! Just be sure to call ahead of going into the shop. Beyond its large selection of books, this bookstore sells other items you'll love like greeting cards, toys, board games, puzzles, and a gift boutique selection. This bookstore has one of the biggest selections of used and new books you can find, so be sure to check it out!
The Booksmith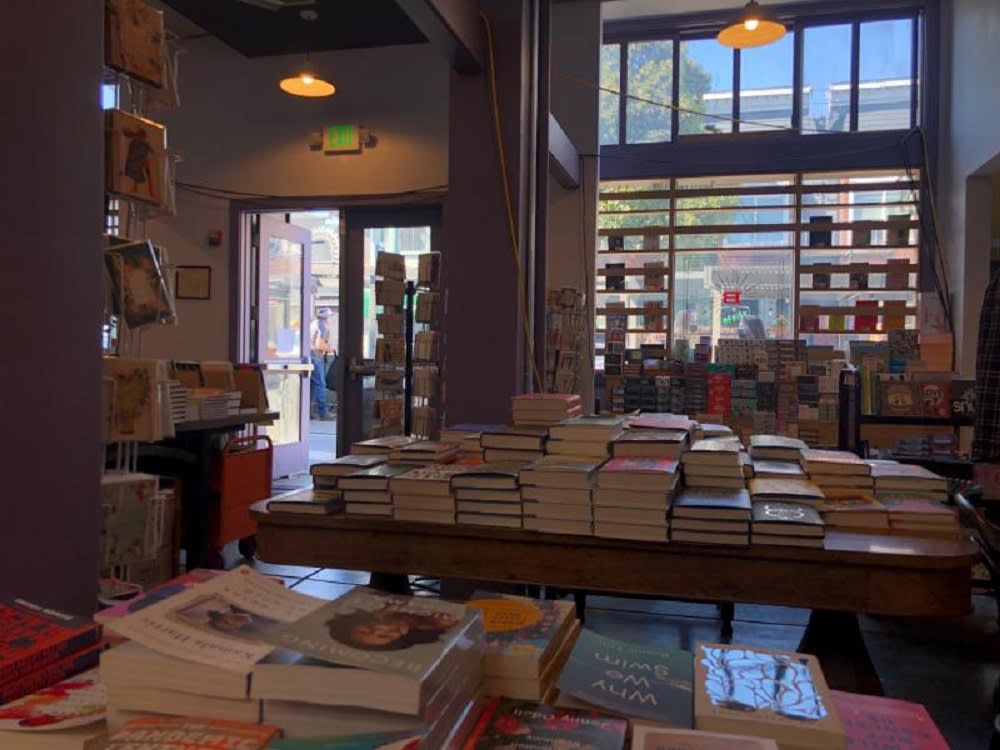 Credit: The Booksmith

First opened in 1976, The Booksmith has been one of the go-to spots for books in San Francisco. They carry books in so many different genres including fiction, non-fiction, art, graphic novels, and more. They have a lot of books that are hard to find anywhere else too. They carry other products too such as cute greeting cards, tote bags, notebooks, and more.

One unique thing about this bookstore is that it hosts a variety of different events throughout the year, including its popular author event series. In this series, authors will come into the store and read their books or speak about them. Some authors they've had in the series include Neil Gaimon, Lynda Barry, William Gibson, and so many more! They've had many different kinds of authors come in, from novelists to poets to cartoonists. They've even had visits from Pulitzer Prize and Booker Prize winners.

For more upcoming events, be sure to check out their events calendar on their website. Its gorgeous interior and displays make this place one where you can wander and browse their book selection for hours. With everything The Booksmith has going on from its selection of books to its exciting events, this bookstore is one that every book lover should try to go to.
Loving San Francisco?
San Francisco's lovely bookstores are just one aspect of the area that people love. If you're looking for San Francisco Bay Area real estate, contact Mary Macpherson. She can help find the home of your dreams.