Working out comes with a plethora of benefits: weight loss, better sleep, reduced risk of heart disease, and improved mental health and mood (just to name a few). You can get moving in a variety of ways, from practicing yoga at home to getting your blood pumping through cardio exercise at the gym. Here are some tips to help you get started as well as some at-home and in-person gym suggestions in the San Francisco area.



Workout Tips
Make Sure to Warm Up
Just like you would if you were at the gym, it's important to get your body primed for a workout to prevent unnecessary strain or damage. The main goals of a warm-up are to increase your body's internal temperature and activate your muscles so that they're ready for the work they're about to do. Five minutes or so is all it takes for a warm-up to be effective, and simple movements like squats, lunges, and jumping rope can do the trick. As long as you feel your heart rate rising, you're ready to get the most out of your daily exercise regimen.
Hire a Trainer
Learning about fitness and how to work out safely and effectively can be a daunting task for a person to take on by themselves. Hiring a trainer can be a good way to make a clear plan and stick to it — with the guidance and assistance of someone who's certified to help you get fit. Whether you opt for intermittent progress checks or full weekly sessions, it's a great option for anyone who wants to take their fitness to the next level.
Many trainers have social media pages and websites where they post about their services and expertise, meaning it's possible to do your research online and find someone in your area who has the specific experience you're looking for. Every trainer has a different ethos and approach to fitness, so it's important to keep in mind what you want out of the experience.
If you're not quite sure where to start, there are many services online, like Trainiac, that can walk you through the process of browsing different trainers and connecting with one virtually. These services often operate on a flat, subscription-based fee, so you know exactly what you're getting for your money and can cancel if need be.
Some trainers can also help you develop nutritional plans and meal guides, which can be a huge help for those staying at home. Cooking food that will nourish you while helping you reach your fitness goals can speed your progress tremendously.


Remember to Rest
Giving your body time to rest and recover is a crucial part of staying healthy, building muscle, and preventing injuries that can happen when your body gets overworked. Working out at home might not seem as rigorous as hitting the gym, but your body will still need time to adjust and improve.
Setting a rest day every week can be a great step. On your rest day, you can still get your blood flowing by stretching, going for walks, and doing simple yoga moves.
Breathing techniques are a great way to ensure you're keeping your body rested and your mind clear. You can do some guided techniques with a variety of calming apps on your mobile device.
Sleep is crucial; if you aren't sleeping well, you'll find yourself feeling tired and groggy throughout the day, likely preventing you from being motivated to exercise or give your all during workouts. Maintaining a consistent schedule and avoiding caffeine late in the day are crucial, but if you need extra relaxation, products like humidifiers or weighted blankets may help you achieve a more restful night's sleep.
At-Home Workouts
Take a Virtual Class
We've come a long way from VHS exercise tapes being the best way to work out at home. Now you can sign up for an incredible variety of online classes and workout sessions to keep you motivated! Whether you follow along with a pre-recorded video or participate via a scheduled live stream, there are options to fit everyone's fitness needs, the limits of your living space, and what (if any) equipment you have on hand. And since many workouts come with free trials and relatively affordable prices, you can try a few and see what works for you.
Many gyms, including trendy spots like Barry's, have begun offering online versions of their most popular classes and training sessions. You can see if your favorite gym has any virtual offerings as a way to support local businesses, or branch out from your comfort zone and try something new. Whether you're looking for HIIT, cardio, or yoga, there's pretty much any kind of class you can imagine available to you from the comfort and privacy of your own home.
If you don't want to pay to join in on live classes or if you need to make your own schedule, you can also find a ton of free recorded options on video sites like YouTube and streaming services like Amazon Prime. Search for videos based on the kinds of workouts that suit your needs and skill level, and you'll find creators making a wide range of content to help you stay fit.
If you're looking for a program that will provide you with a full fitness regimen for an extended period rather than individual classes, try joining a service like Beach Body on Demand or Tone It Up. These can help to provide a useful structure and routine to keep you active day after day, as well as provide you with set benchmarks to help you feel accomplished.


Get the Right Equipment for You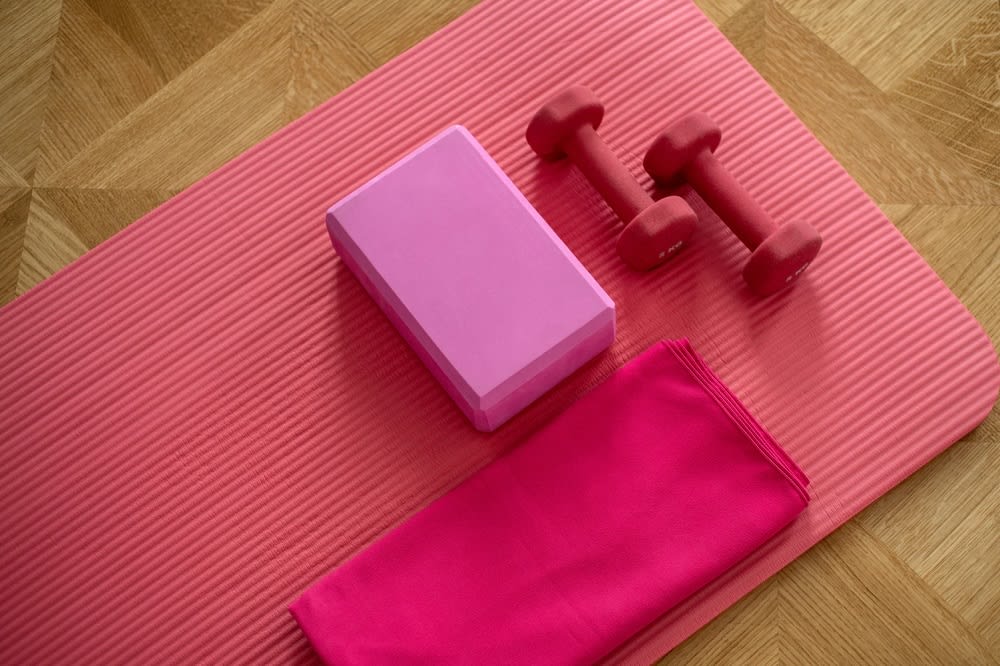 There's no lack of great home workout equipment on the market. Whether you're just looking to enhance a body-weight workout or create a full in-home gym, you have plenty of options available to find the perfect fit for you.
Small investments in equipment can make a big impact. A jump rope, resistance bands, an exercise ball, and a yoga block are all relatively inexpensive and easy-to-find options that can greatly enhance your workouts. Do a bit of research online to find ideas on how you can make them work best for you, and discover a ton of creative ways to incorporate them into your daily routine.
Though they often come with a bigger price tag, equipment like treadmills or exercise bikes can bring the value of a gym to the convenience of your home. Depending on your budget, you can choose simpler options or machines decked out with features to enhance your experience.
Just because you're working out at home, you shouldn't forget that breathable athletic clothing and proper footwear can always have a positive impact on your workout!
Make sure the air quality of your home gym is up to par. Mold, dust, and allergens can make your air quality deteriorate quickly. Install air ventilation ducts to make sure the air circulating through your workout space is clean and healthy.


Find a Remote Workout Buddy
Many people shifting their workout habits from the gym to their home might be missing the social element of fitness, but working out at home doesn't have to mean working out alone. If you don't live with a spouse or family member who can get active with you, you can connect with friends and strangers online who are similarly passionate about fitness.
If you have a friend who's also pursuing their own fitness goals, set up regular times to work out simultaneously, even if you can't be together. Check in after and talk about how your progress is coming along.
Use a social fitness app to compare your progress and stay accountable to friends and fellow users. Many of these apps offer a ton of personalization, helping you create and meet unique goals while keeping you connected to people who are also passionate about health and fitness.
If Facebook or Instagram are more your style, you can post about your goals and progress so your friends can cheer you on. Share what you're learning as you go, and you might start to build a community of like-minded followers!


Dance it Out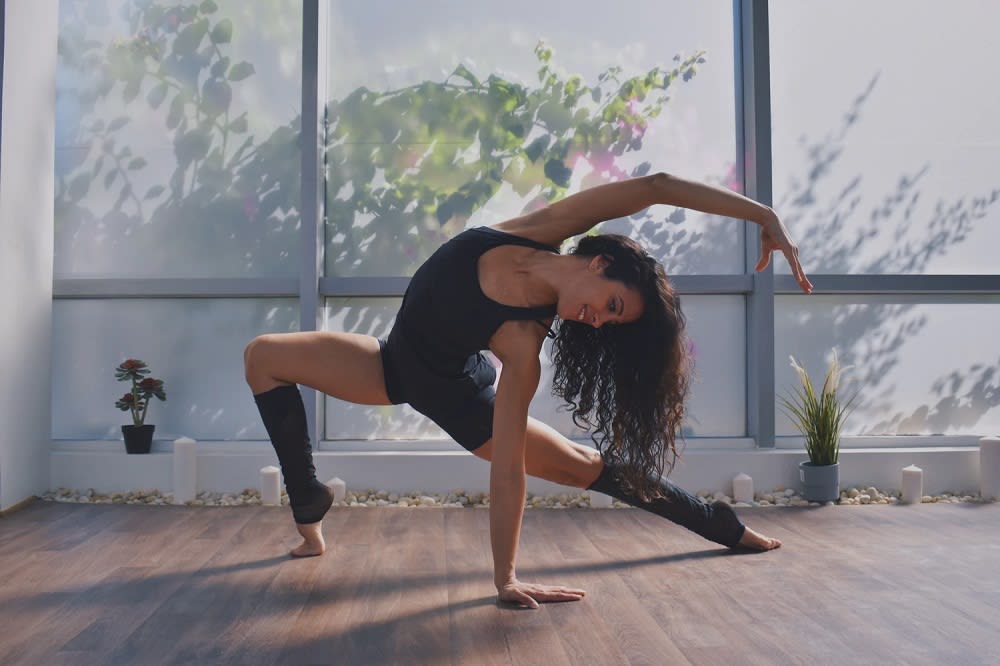 Working out doesn't have to be a bore. Dancing is a form of exercise that can be both fun and seriously effective, helping you to burn calories, increase flexibility, and strengthen muscles.
There are many great resources for those who want to get up and move. If you're a fan of Zumba or other classic dance exercises, you can find many available online at affordable prices or even free. Check out this list of the best classes to try out, including ones you can easily stream via YouTube.
If you're not just dancing for exercise but also want to gain real skills in different dance styles, there are more serious and professional-level courses to help you master your movements without the stress of a formal dance class.
Hit the Gym
By taking safety measures and precautions, these gyms are making sure you'll be able to get in your workout while staying safe. Here are some local gyms and workouts you're sure to love.
Body Mechanix Fitness
Located on Mission Street, Body Mechanix Fitness has been a part of the San Francisco landscape since they first opened in 2005. Their mission, which is simple yet revolutionary, prioritizes "people over profits, education over entertainment, expertise over choreography, and results over trends." Additionally, they seek to highlight and model fitness as a lifestyle while emphasizing the importance of community. Body Mechanix Fitness specializes in small group training sessions and personal training sessions. Those who are feeling extra-ambitious can join their 12-week fitness challenge. This intense and thorough challenge will have you looking (and feeling) your best in no time!
3rd Street Boxing Gym
If you want to switch up your workout and try something new, why not consider boxing? Boxing is a great aerobic exercise with endless benefits — and you can experience all of these benefits (safely) through outdoor classes at 3rd Street Boxing Gym. Located in the Dogpatch District, 3rd Street Boxing Gym first opened its doors in September 2003. Since its humble beginnings, this gym has transformed into a haven for amateurs and professionals alike. If you're interested but not quite ready to commit, don't worry — you can take a beginning boxing class for free! This fast-paced and intensive workout will get your blood pumping.
SF Iron
Another San Francisco-based gym, SF Iron is known for bringing together a diverse array of people with one common goal: striving to lead a healthy lifestyle. Specializing in strength training, SF Iron pairs clients with a personal fitness coach who designs specific programs to help clients meet their goals. The best part? They're open now! Whether you are new to strength training or are a seasoned veteran with years of experience, there's a place for you at SF Iron.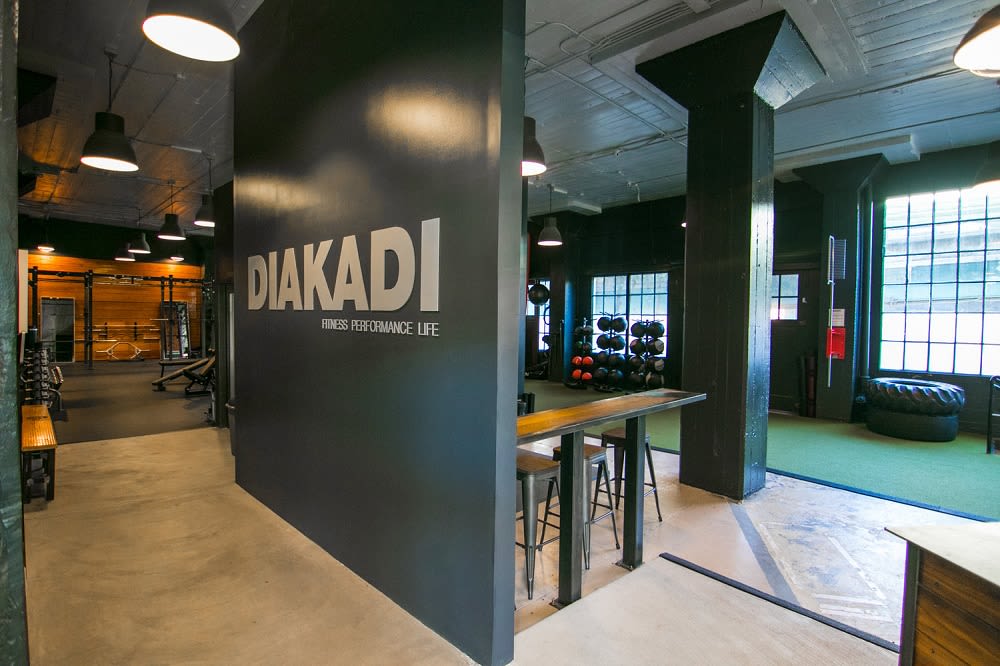 Credit: DIAKADI
DIAKADI
DIAKADI quickly gained popularity with locals after opening in 2004 for being the city's largest personal training-only facility. Named the "Best Gym and Best Personal Trainer" in San Francisco for 14 years, DIAKADI offers the best of the best. With the ongoing COVID-19 pandemic, DIAKADI has found a way to adjust: outdoor personal training sessions. Here you can participate in advanced fitness classes, personal training, and group fitness. DIAKADI conducts sessions outdoors six days a week, which allows clients to ease back into training while also staying safe. Those who are interested in joining the gym, whether virtually or in-person, can get started by filling out a brief questionnaire and a new client application.
MX3
MX3, like so many other gyms, has found a way to adapt to continue operating during the COVID-19 pandemic. With locations in Castro and Lower Heights, this San Francisco-based gym is still very much open while taking all of the necessary safety precautions by offering the opportunity to work out outdoors. Here you can take part in personal training, boot camps, fitness assessments, and nutrition coaching. Regardless of your level of expertise, this San Francisco gym is dedicated to helping you identify and meet your fitness goals.
Hit Fit SF
If you're someone who enjoys high-intensity workouts, we've got just the place for you! Hit Fit SF has been offering boxing and HIIT Fit classes since it was first established in 2014. Owned by Simon Redmond, a 1999 Golden Gloves Champ, Hit Fit hosts high-quality classes taught by carefully selected trainers. They are committed to seeing their members succeed and reach their goals. If you sign up now, you can get your first two classes for only $25. You can also sign up for a four-week outdoor boxing boot camp taking place at Lafayette Park and get right to boxing outside!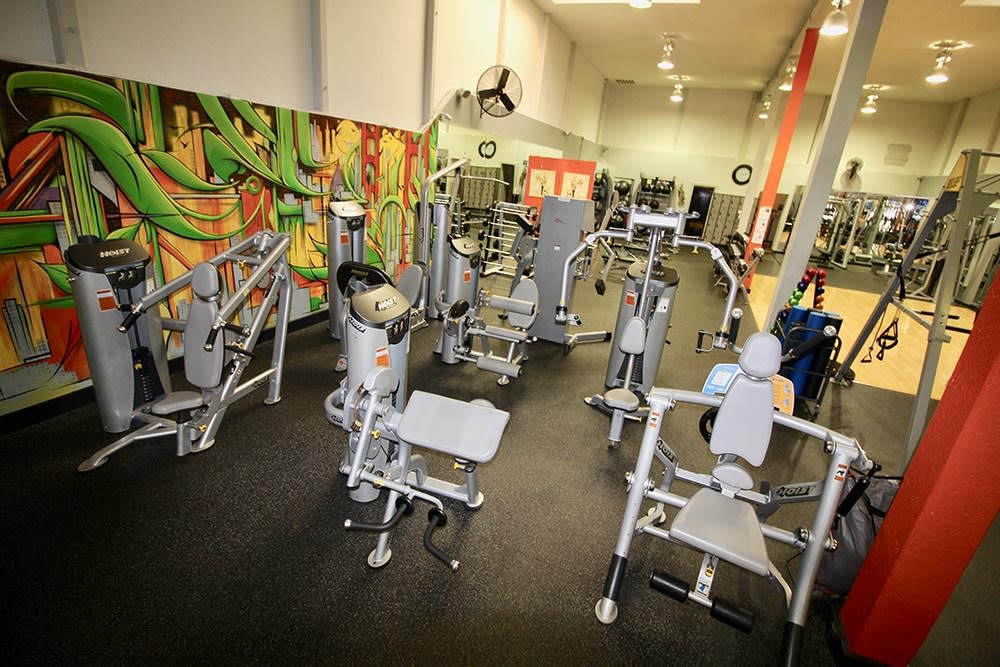 Credit: Live Fit Gym
Live Fit Gym
With summer in full swing, now is the perfect time to take advantage of working out outdoors. Lucky for you, you can do that at Live Fit Gym! With multiple locations across the city, Live Fit Gym is still offering their services. Whether you are interested in personal training or prefer group training, you can find everything here. Consider joining a boot camp in the park for the unbeatable price of only $149. Here you will participate in HIIT training-style classes, which incorporate body weights, cable bands, and stretching techniques. These invigorating classes will help get you looking and feeling good!
The Park Gym
This San Francisco gym has two locations: one on Harrison Street and another on Geary Boulevard. With rules and regulations to ensure the health and safety of their staff and members, The Park Gym has now reopened for business. They offer a variety of classes, including boxing, core cardio, and weightlifting. To guarantee your spot in a class, be sure to book your class online. With deep cleaning, widely available hand sanitizer, required face coverings, and temperature checks, you'll be in good hands while working out here.
CrossFit Potrero Hill
Founded in 2009, CrossFit Potrero Hill is known for being a tight-knit community of athletes. This location offers a wide assortment of group and personal coaching programs that are currently taking place outdoors. Through intense classes and training sessions, you'll be pushed to challenge yourself and become the best version of yourself you can be. Athletes of all levels and abilities are welcome to join this family. No matter what your goals are, this community is dedicated to helping you reach your full potential.
Crunch Fitness Polk Street
If you don't have time to make it to the gym, no problem! On Crunch Fitness Live, you can take part in more than 85 workouts without ever needing to leave your home. If you are someone who enjoys participating in a wide assortment of classes rather than sticking with one workout, Crunch might be the way to go for you. Crunch offers a wide variety of classes, including barre, yoga, pilates, and dance cardio. They also offer customizable workout plans, depending on what you want and need. Perhaps the most impressive part of Crunch is their unbeatable prices — after a free 90-day trial, the monthly membership fee is just $10. Between their stellar prices and a wide selection of classes, Crunch Fitness Live is a small price to pay for a healthy lifestyle.
Project 13 Gyms
Nestled in Nob Hill, Program 13 Gyms is all about "Building Better Humans" and helping members achieve their full potential through fitness. They have three pillars of training: fitness, mindset, and community. As COVID-19 continues, they have adapted to offer virtual classes as well as outdoor workouts. Their socially distanced classes allow members to continue to take part in the fun. From lower-body kettlebell sessions to upper-body strength outdoors, these classes are sure to mentally and physically challenge and strengthen you. Those interested in virtual classes can check out the schedule here and get active from the comfort of their home. Online classes include HIIT and conditioning, among others.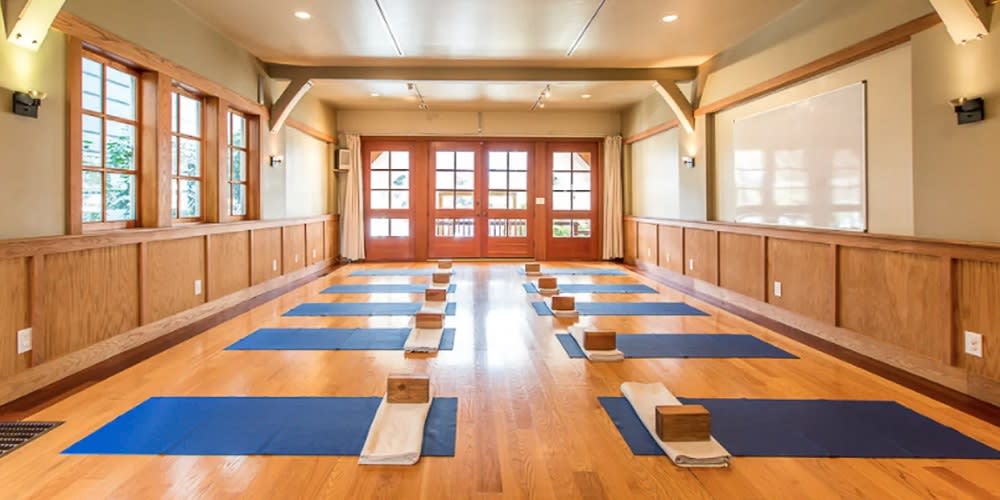 Credit: Class Pass
Yoga Garden SF
It's never too early — or too late — to start doing yoga and reaping its many positive effects! According to Dr. Nevins, a doctor of osteopathy, research has shown that yoga has a plethora of mental and physical benefits. It improves flexibility, reduces blood pressure, increases energy, and strengthens and tones muscle. In addition to its multiple physical benefits, it also helps improve concentration and attention span and even helps with anxiety and depression.

Yoga Garden SF is offering their classes in a virtual setting as well as virtual yoga teacher training. First established in 1998, Yoga Garden SF has been an integral part of the community since opening. Whether you're a beginning student or an experienced yogi, Yoga Garden SF will make you feel included in their welcoming community. Regardless of your level of expertise, you can enjoy classes of varying lengths and styles throughout the day.


To explore the San Francisco Bay Area real estate market, contact Mary Macpherson today. Her expertise in luxury real estate in San Francisco will help guide you through the process of finding the perfect property.