Whether you consider yourself a coffee elitist, an espresso buff, or a java aficionado, San Francisco is your kind of town. The City by the Bay is known for its many specialty coffee shops and roasters located in all quarters, including the Financial District, North Beach, Pacific Heights, Mission, and the Marina District.
Whether you need a cup of Joe on a foggy morning or as an afternoon pick-me-up, you don't have to look far for that jolt of caffeine.
Many of San Francisco's best coffee shops have been around for decades. You've probably heard of some of them, like Caffe Trieste and the Buena Vista, which is famous for serving Irish Coffee. Other coffee shops have popped up during the tech boom. Some chains have shops all over the Bay Area, including in The City.
Living in The City
Having your pick of outstanding coffee shops is just one of the many great things about living in this cosmopolitan city. If you've been eyeing luxury real estate in San Francisco, be sure to partner with a talented real estate agent like
Mary Macpherson
who can help you identify which of The City's great neighborhoods will be best for you. You might be looking for a single-family home in one of the comfortable neighborhoods near Golden Gate Park or out toward the Pacific Ocean, or you might favor condos in high rises in Mission Bay. Wherever you settle, it's guaranteed you'll be near some great coffee shops.
The Buena Vista Café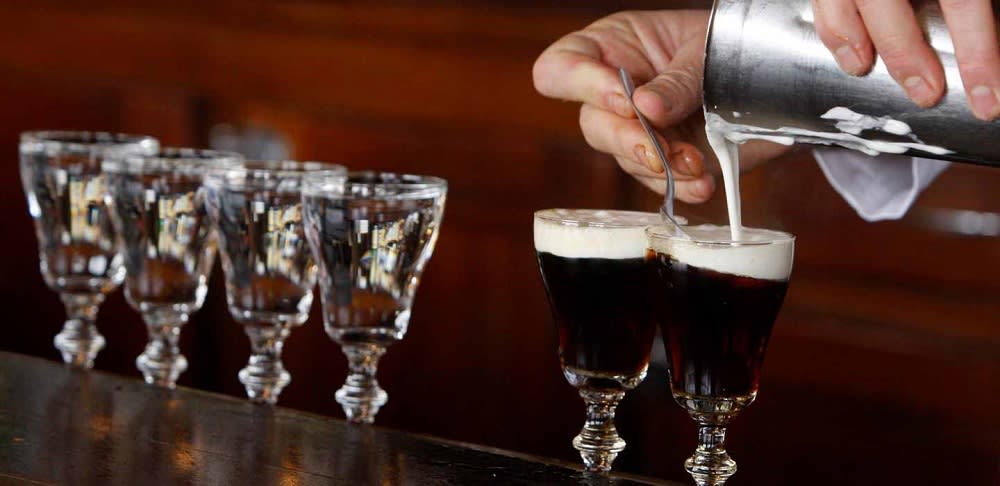 If you're new to the SF Bay Area real estate market and are into iconic restaurants and Irish Coffee, head to the
Buena Vista Café
at its corner location near
Fisherman's Wharf
and prepare to be amazed. You might want to get there early, too, to get a table. Better yet, grab a seat at the bar and watch as the bartender makes several Irish Coffees at once, in assembly-line fashion. Although the Buena Vista has been open for more than a century, it became internationally renowned for its Irish Coffee starting in the 1950s. You'll want to have one or two of these delicious creations, along with a hearty breakfast. If you aren't a breakfast person, don't worry. The Buena Vista serves hearty fare and Irish Coffee all day.
Caffe Trieste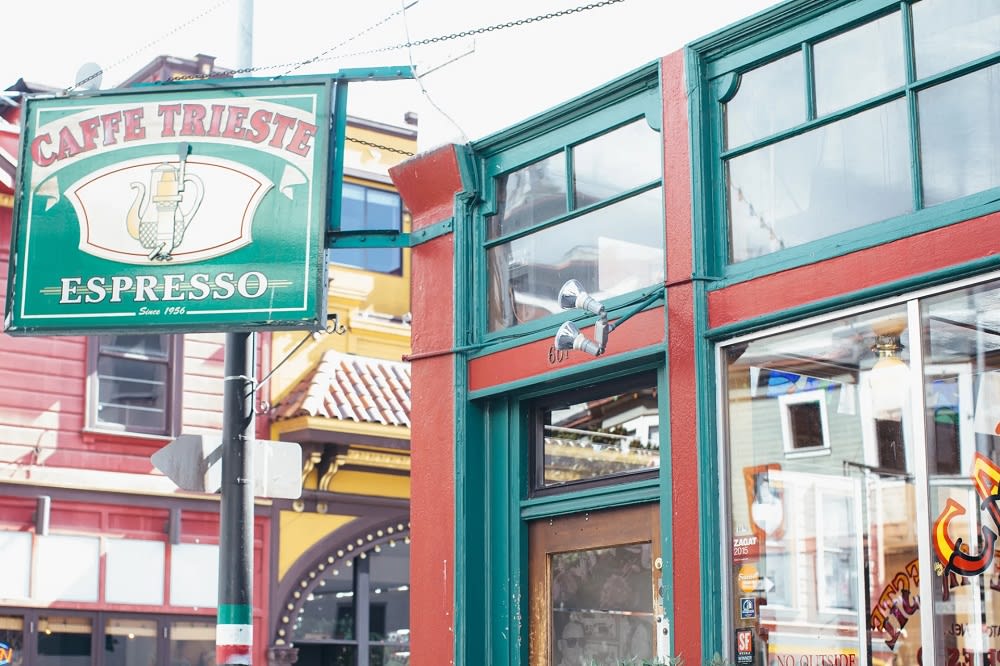 Photo courtesy of Conde Nast Traveler
The venerable
Caffe Trieste
recently celebrated its 65th anniversary of serving some of the best coffee in The City, at its location in the colorful
North Beach
neighborhood. Caffe Trieste first introduced San Francisco to espresso in 1956 and has continued to serve the best Italian-style coffee ever since. Besides being a neighborhood staple, it has brought together a mix of Old Italy and Bohemian poets, as well as celebrities and musicians over the years.
It regularly hosts musical performances and has been the location for TV shows and movies. Caffe Trieste now has a retail store for bulk beans and other products popular with residents of luxury real estate in San Francisco.
Saint Frank Coffee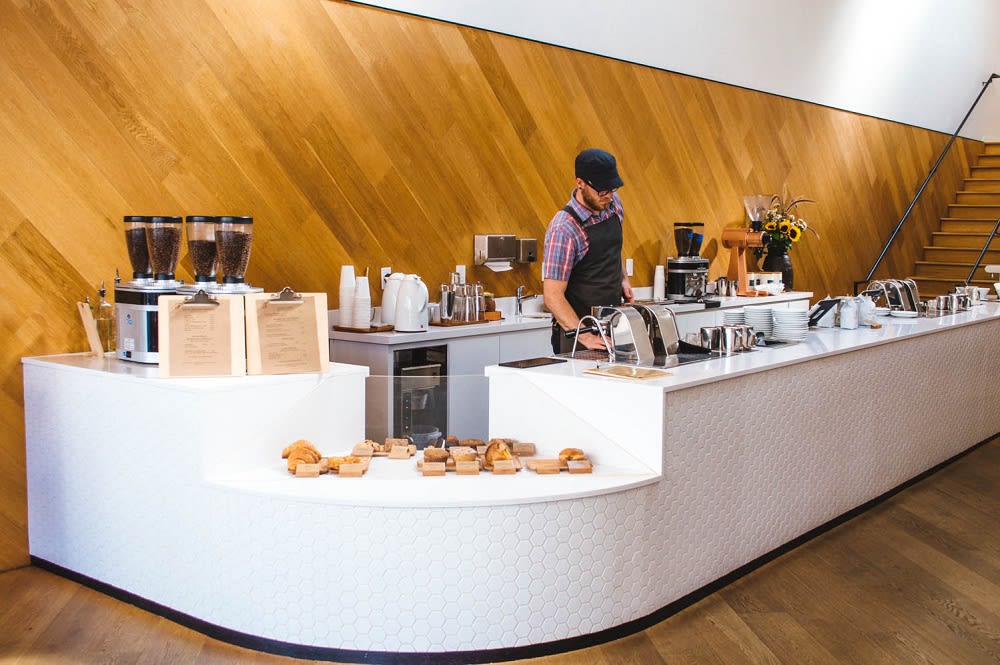 Photo courtesy of Foodetective
Saint Frank Coffee
, on Polk Street in
Russian Hill
, takes great pride in serving coffee from beans grown around the world and roasted in-house. It also serves a menu of unique coffee drinks and pastries in a bright, airy multi-level coffeehouse. If you're out and about in the Bay Area and need your fix of Saint Frank, there's a location in downtown Menlo Park. There's also a Saint Frank popup farther down Polk Street from the main location.
Farley's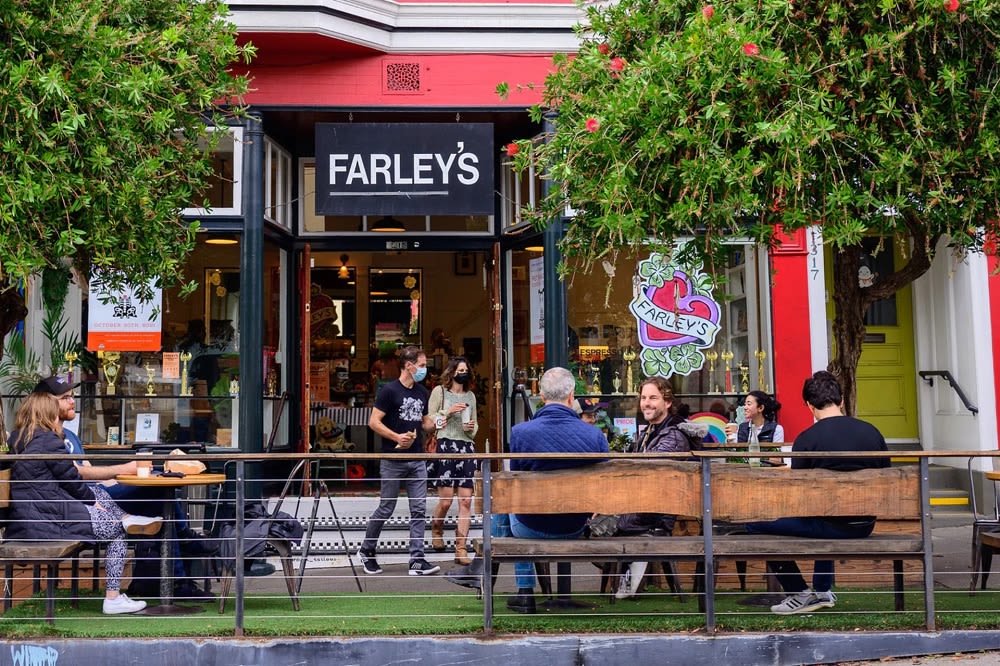 Farley's
is a classic neighborhood coffee shop in an old building in
Potrero Hill
that has been serving refreshing cups of java since St. Patrick's Day 1989. Residents of Bay Area real estate can get a great cup of coffee, as well as experience a wonderful sense of community. The warm interior is decorated with plants and local art, and there's also a large selection of magazines and board games to keep customers busy, as well as friendly games of cornhole in the street. Farley's has plenty of indoor seating, as well as benches on a little parklet right in front. There's also a Farley's East in Oakland.
Sextant Coffee Roasters
Sextant Coffee Roasters
, on Folsom Street, focuses on serving coffee from beans grown in Ethiopia, Kenya, and Colombia, and roasted right here in San Francisco. The various brews are just as wonderful as the coffee house itself, which is located in a building with exposed brick walls and a beamed ceiling with skylights. Sextant also serves delicious pastries. The unusual blends are available in bulk both from the coffee shop itself and online.
Wrecking Ball Coffee Roasters
Wrecking Ball Coffee Roasters
is a small, chic coffeehouse in
Cow Hollow
that serves various house-roasted coffees, espresso drinks, a large selection of teas, and pastries at its custom-built brew bar, as well as a selection of teas and herbal tisanes. Wrecking Ball sells bulk coffees, as well as home-brewing equipment to owners of luxury real estate in San Francisco. Wrecking Ball's headquarters and roastery are located on Folsom Street. It is not open to the public, but you can contact the company if you'd like to visit.
Yo También Cantina
Yo También Cantina
, on Hugo Street near
Golden Gate Park
, serves all sorts of food and drink, including Verve Coffee, from Santa Cruz. It is a comfortable, cozy neighborhood gathering spot that's a great place to pull up a stool or chair and have a steaming cup of coffee. On sunny weekends, there's no place better to have a cup of Joe than at the little parklet on the sidewalk right in front.
These are San Francisco's best coffee shops. If you're eager to move into luxury real estate in San Francisco and discover even more wonderful coffee shops, let
Mary Macpherson
show you why she is one of the Bay Area's top real estate agents to help you find your dream home.