With a big city and a melting pot of cultures, San Francisco is home to many delicious restaurants that it may be hard to choose from. Here is our list of the top 7 places to take your friends to brunch in San Francisco.
Zazie
This French bistro has delicious brunch options for all to enjoy. With a gorgeous outdoor patio and classic French flavors, you don't want to miss having brunch at Zazie! Their menu has everything from your eggs of choice, to french toast, pancakes, and even sandwiches if you're more interested in the lunch side of brunch! Their pain de mis french toast with orange cinnamon batter is a menu favorite, and if you like, top the dish with fresh seasonal fruit.

Zazie has a few types of pancakes for you to enjoy, buttermilk, gingerbread, and another flavor that changes weekly. If you can't decide on one kind, don't fret! Order a pancake flight to enjoy h buttermilk pancakes, gingerbread pancakes, and some french toast too! If you are looking for gluten-free options, Zazie makes a gluten-free pancake made with gluten-free Irish oatmeal, bananas, cinnamon, and vanilla.

Zazie also features an expansive brunch drink menu, with over 10 different types of mimosas to choose from! You can even build your own mimosa by choosing your champagne and a type of juice or syrup. If you want there is an option to add a scoop of peach sorbet to it too. Between the French bistro flavors and its fantastic drinks menu, Zazie is an ideal spot to brunch with friends in San Francisco.
Plain Jane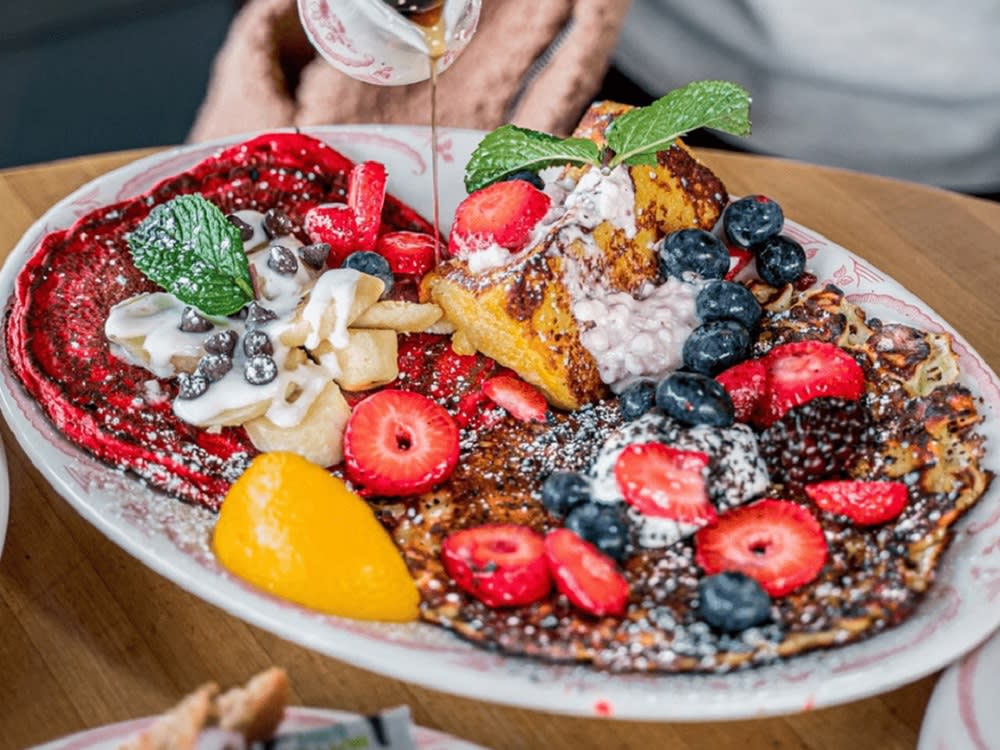 Credit: Plain Jane

Open from 9am to 2pm every day, Plain Jane specializes in all things breakfast and brunch, making it one of the best places to enjoy a tasty meal in San Francisco. While named Plain Jane, there's nothing plain about the food here. The menu has lots of creative variations of your favorite brunch menu items like eggs, pancakes, waffles, and lots more to discover.

Their red velvet pancakes are to die for, topped with white chocolate cream cheese, bananas, chocolate chips, and maple syrup. Their gluten-free coconut and brown rice flour pancakes are also super tasty, topped with grilled bananas, coconut flakes, and maple syrup. If you like waffles, you'll love their chipotle honey fried chicken and Belgian waffles dish. No matter what you're craving, Plain Jane will take your brunch favorites to the next level.

Plain Jane also has a drink menu too with lots to choose from. They have classic mimosas, Bloody Marys, screwdrivers, blueberry bellinis, and more. For other non-alcoholic breakfast favorite drinks, enjoy their coffee, espresso, orange juice, and cinnamon bun lattes. From the food to the drinks, Plane Jane is a delicious spot to do brunch!
Rose's Cafe
Interested in trying breakfast pizza? Then Rose's Cafe is the place to visit. This Italian restaurant has a constantly evolving menu that you're sure to love. They have lots of options from french toast bread pudding with whipped cream and fresh strawberries to scrambled eggs with spinach purée & prosciutto on toast and everything in between.

One of the things they're most known for is their breakfast pizzas. One of their pizza options comes topped with smoked ham, fontina, and eggs, and another comes with smoked salmon, crème fraîche, and scrambled eggs. Their menu changes daily though, so there are always new toppings depending on what the best and freshest ingredients are at the time! The ingredients they use come from local farmers in the area.

With Rose's Cafe's changing menu you're always in for something new and delicious! They serve a plethora of coffee drinks too, from cappuccinos to lattes to macchiatos and more. You can choose to dine either on their lovely patio or inside the restaurant. All of this combined makes Rose's Cafe a San Francisco Brunch staple.
Wooden Spoon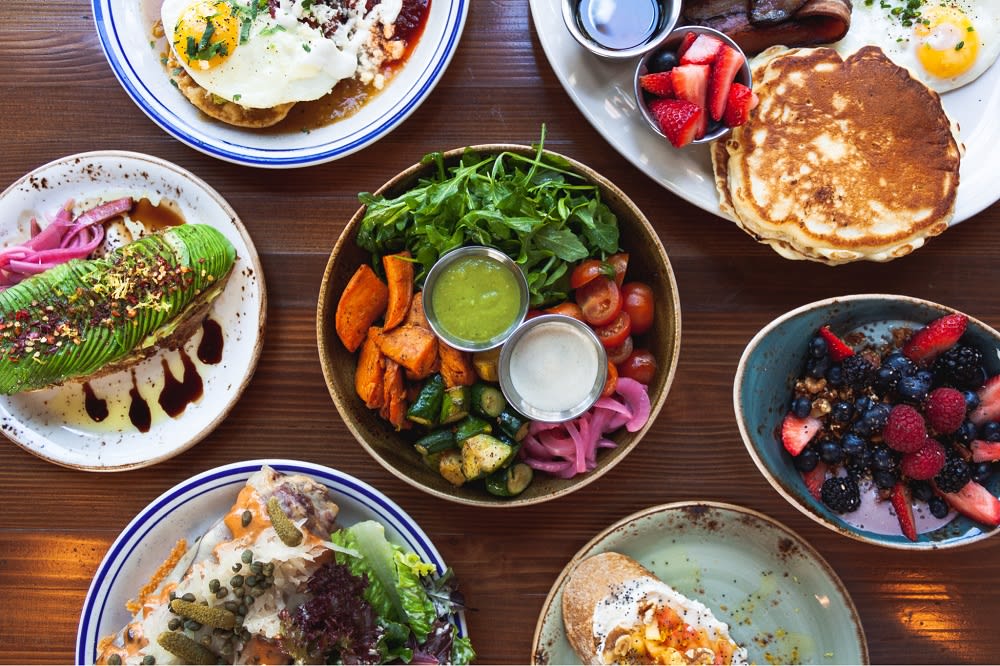 Credit: Wooden Spoon

Wooden Spoon is another place you'll love to stop at for brunch with friends. Brunch here is unique, with a breakfast and lunch side to their menu. This is perfect if you can't decide between the two, or if the people you're going out with want different types of meals. On the breakfast side, some popular menu items include their granola acai bowl, eggs, their breakfast panini, pancakes, avocado toast, and more. On the lunch side of their menu, you can order salads, their classic spoon burger, a cheddar cheese tuna melt, and among other options.

Another thing that makes this spot a lovely brunch spot is its cocktail menu. You can enjoy yummy drinks with your brunch like prickly pear margaritas, mimosas with freshly squeezed orange juice, breakfast Aperol spritz, and others. Wooden Spoons menu -- from lunch to breakfast to cocktails -- makes this a must-stop for San Francisco brunch. Whether you're craving eggs or salad or sandwiches, this spot has it all!
Lokma
For Turkish and Mediterranean brunch, Lokma is the restaurant to go to. Available every Friday, Saturday, and Sunday, they have a brunch menu with delicious plates for you to enjoy. From your classic brunch items like avocado toast and yogurt with granola to Turkish and Mediterranean items, there's so much you'll want to try. They have pancakes made with Greek yogurt served with fruit, blueberry compote, almonds, and honey. They also have their Turkish breakfast meal which comes with cured beef, eggs, Turkish sausage, feta, olives, fresh fruit, hummus, tomatoes, cucumber, kaymak, honey, and a pita.

If you like, you can order drinks with your brunch too; they have both mimosas and pomegranate bellinis. Another thing to love about Lokma is that your brunch doesn't have to stop with the main course; the dessert menu will satisfy any sweet tooth. This restaurant has everything from Turkish affogato, to chocolate baklava, to creamy flan with hazelnuts. With so many delicious things to try throughout their menu, you will love having brunch with friends here.
The New Spot on Polk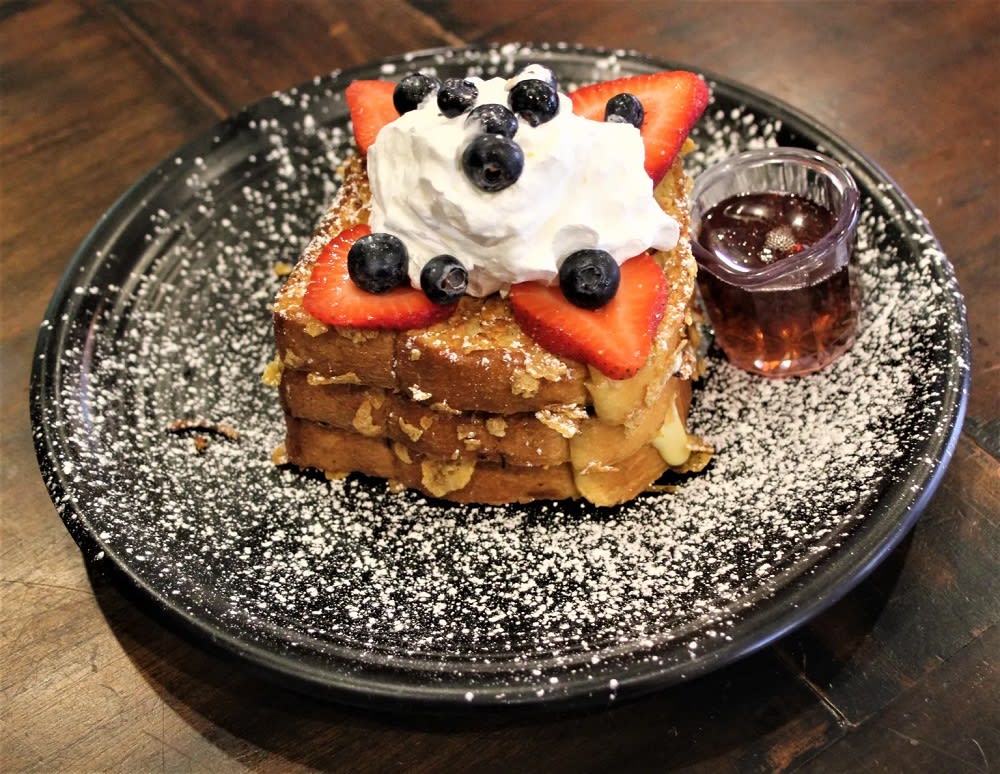 Credit: The New Spot on Polk

The New Spot on Polk is famous for its all-day breakfast. This favorite brunch spot has won awards for its menu -- from Neighborhood Favorite to Tripadvisor's Travelers Favorite -- making this one of many people's favorite spots to brunch in San Francisco. The best part is they're open every day of the week. You'll love all that their menu has to offer; from eggs Benedict to buttermilk pancakes to Montecristo waffles, you can have the brunch of your dreams at The New Spot on Polk.

Their drinks menu is just as expansive as their brunch food menu, including freshly squeezed fruit juices in any flavor you can dream of, creamy milkshakes, coffee, and so much more. If you're looking for brunch cocktails, they have these available too, with mimosas, bloody mary's, and even a chocolate mint coffee milkshake. The New Spot on Polk's award-winning food makes it an ideal spot to get brunch in San Francisco.
Surisan
For a delicious Korean brunch, head to Surisan. This restaurant blends traditional Korean cuisine with modern Korean cuisine. Their tasty brunches are made with ingredients from local organic sources, ensuring amazing freshness and tastiness every time. Their menu has everything from your favorite brunch staples like eggs benedict and waffles with a twist (made with ricotta) to Korean brunch favorites.

Their kimchi fried rice is one of these favorites, as well as their spicy pork bak. Their dolsot bibimbap is another one that many love, consisting of rice porridge, vegetables, bacon, cherry pepper, and poached egg. The inside of their restaurant is spacious and made with large groups in mind, so feel free to bring along all your friends for a fun and tasty brunch out. They also have a lovely outdoor dining area with a deck and bar! Whether you prefer eating inside or out, you're sure to love either option at Surisan. Surisan's flavorful brunch and dining environment make this a can't-miss restaurant to brunch in San Francisco.
Looking for more San Francisco?
From delicious brunches with friends to everything else it has to offer, San Francisco is a wonderful place to visit and live. If you're interested in the best real estate agent in San Francisco, get in touch with Mary Macpherson.

*Header Image Credit: Zazie